Isn't it a great idea to watching several birds in their natural habitat, where no cage limit their wings. I really did not want to lose such opportunity. So, I extended my recent trip of Great Taj Mahal and heritage sites of Fatehpur Sikri to Bharatpur (Rajasthan). Which is famous worldwide for Keoladeo National Park bird sanctuary.
Due to presence of endangered bird species and biological diversity, Keoladeo National Park earned the status of UNESCO Heritage Site.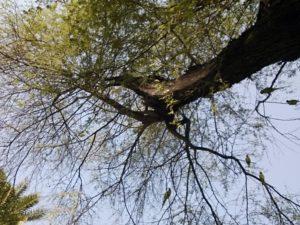 When I was kid, house-sparrow, crow, parrots doves, or cuckoos all were neighbors. Even, it was very common to see Peacock, Baya weaver in the field. But now gone are the days, today's kids learn about these birds from book only.
As we all are rushing towards modern lifestyle, simultaneously we are making distance from nature. So, it was again a chance to live some precious moment in completely natural environment.
Keoladeo

National Park, bird
sanctuary
After finishing my heritage ride, I took govt bus from Eidgah Bus stand in Agra for Bharatpur. You can also hire a cab from Agra to Bharatpur, but usually I prefer public transport.
It was only an hour comfortable journey from Agra. I reached Bharatpur in afternoon but I planned to visit Keoladeo National Park next morning.
Best time to Visit
If you are in Bharatpur, just because you wanted to enjoy full beauty of Keoladeo National Park. Early morning is best time to explore the bird sanctuary in Bharatpur. We all know, birds rise very early, perhaps they tell to the Sun that its time to rise.
Keoladeo National park also open on sun rising, so I too left my guesthouse around 6:00 AM. Bharatpur is not much big town, so no matter where you stay. 5 to 10 minute auto ride enough to drop you at the gate of national park, or you can also say the Park is in main town.
Because it was morning, so I chose to walk from my hotel to the park. On the way, close to park I saw many cycle rickshaws going towards Keoladeo National park, but I was looking for the option of cycling myself.
Cycling in Keoladeo National Park
There was a ticket counter in left, just after entry the main gate. I inquired about the option of hiring cycle, so he asked me to select one cycle of my wish from the cycle parking area. It was just next to the ticket counter, and there were three type of cycles.
Price of Cycle: Ladies cycle and full height Atlas was in Rs. 50/-, while ranger cycle in Rs. 60/-. Few authorized Pedal rickshaws were also standing there, they charge Rs. 120/- for 2 hour. After trying few pedals on ranger cycle to check whether its working fine, I selected one
Entry Ticket at Sanctuary: Then I took entry ticket of Rs. 70/- along with cycle token from the same counter. I had to deposit my ID to the care taker of cycles before taking one.
In starting of few hundred meter, the site look very common. Thorny bushes on both side of path, which can be expected in Rajasthan. After approx 600 meter, I saw a Hanuman Temple a nice sign for religious one. After some more pedals, Salim Ali museum was on my right and it was for person like me. Unfortunately, it was closed because the opening time was 9:00 AM.
Salim Ali 'the Birdman of India'
Salim Ali was the very first Indian ornithologist (Who study about birds). He wrote lots of books on bird study, the most appreciated was the Handbook of the Birds of India and Pakistan in 10 volumes. He was honoured with Padma Bhushan in 1958 and the Padma Vibhushan in 1976 for his work in the study and conservation of nature. There are several Bird Sanctuary on his name to mark his contribution. Even a rarest species of bats 'Latidens salimali' named on Salim Ali.
I moved ahead, there I got another check post….hmm so this was the main entry to sanctuary. Now, background colour got changed dusty brown to green. Thorny bushes left behind and now branches of big trees of either side were almost covering the road.
I could hear the tweeting and fluttering of wings with water. Lots of waterfowl were playing in muddy water. I can see folk of birds on the surrounding tree, some were sitting with spreading wings to dry their wings.
It doesn't matter to know the nomenclature of bird but the soothing natural scene. Yes, they were not alike but enjoying all together. Mood has already been changed, the scene was mesmerizing.
It was quite satisfying to be a part of such environment. There were several benches too, where you can relax while enjoying the natural ambiance.
Bharatpur bird sanctuary, also a UNESCO site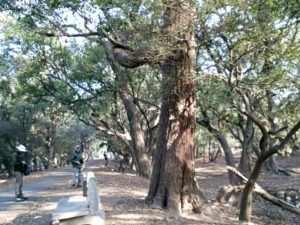 There were many foreign visitors along with their big.. even bigger cameras. Mostly were professional photographer more than 20 year of experience in the wild life. Its look like they were capturing for Discovery or National Geographical.
You know about 50% visitors of this bird sanctuary are foreigner, means they are more interested in watching and capturing birds. In other words, may be development of their countries does not permit these birds in their surroundings.
Keoladeo Temple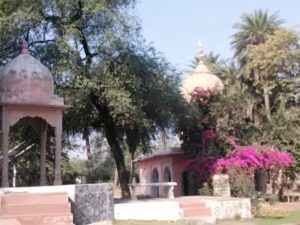 After relaxing there for some time I moved further, and the straight road took me to an ancient temple. It was Keoladeo temple, a shiva temple which gave name to this national park. It was a small temple but considerably old, approx 400 year.
It is believed that the Shiva Linga appeared here itself, and then a temple has been made by Jat ruler of Bharatpur. There is only 6 Km, straight road open for the visitors from entry point to Keoladeo Temple.
A few other roads intersect with this main road, but on moving 300-400 meter on these roads you will find board with "Visitors are not allowed beyond this point".
But you can find watch tower on these roads, from there you can see up to miles. I saw a running herd of deer and a wild dog behind them and another group of Nilgai (Blue bull). After all it was my first but a wonderful experience in a Bird sanctuary…also very much enjoyed cycling after a long time.
Eat & Stay in Bharatpur
Bharatpur is quite budget friendly town, you can easily get a comfortable stay in Rs. 500/- a day in the town. Several hotels are available near the sanctuary, but these will cost you higher. 'Hotel Bharatpur Ashok' is good option inside the sanctuary, if you like to spend more time within sanctuary.
Market lane are full of street food, like Kachori & Jalebi, Chhole-Kulche or Momo & Chowmine. Devi Ram Ki Kachori is the oldest and famous shop for street food near Mathura gate.
More tourist places of Rajasthan
If you find this post useful, please share and leave your valuable feedback in the comment box.
Subscribe for further travel update