The time had come when I was going to live my long pending dream. I was excited but nerves too, too many thoughts were popping out in my mind. And it was quite obvious too, because I was in Rishikesh, the adventure capital of India and going to tick 'BUNGEE JUMPING' from my bucket list.
Bungee Jumping at Rishikesh, Experience of life time
I was lined-up in the queue for jumping platform and waiting for my turn. But, this waiting time was making more nervous because I could hear the people screaming, even if I was avoiding to see them jumping. Every faces around me, was having mix of emotions. Some of them was accepting that they are nerves too, but few were trying to look cool.
Pushing the fear of Bungee Jump
The staff of Jumpin-heights were also trying to calm down participant's breath by diverting to some general question. There were three level of safety check too and no precedence of any accident. So, there were many logic to appease my self. But still, there was a fear in some of the corner and accepting that should not be an issue. Like, what if I got heart stroke or some kind of nervous breakdown.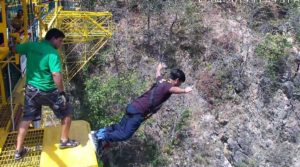 All those thought look silly now, but that time it was the only reality because I did not experienced such extreme experience before. But one thing in my mind that whatever be the consequence, it will be just because of my own decision, my own wish and that itself was very satisfying.
Encountering with all random thoughts, finally I was at the jumping point. So, I decided to be in present and live that moment. I already been tied-up with the harness and a rubber cord and reached to edge.
I looked straight, spread my wings and a gentle push….. everything got stopped for next 3-4 seconds, no thought, no sound, no view till the cord extended to its full length. Then, the sudden jerk of rebounding cord got me to life again. I could feel the weightlessness and butterfly in stomach. I screamed, not because of fear but the achievement I earned.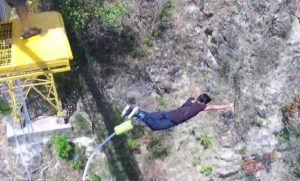 Yes! I have done it, gave thumbs-up to the staff who were there to get me down to the river bed. I was hanged and swinging with head down and now have started the enjoying view of flowing river above my head : ).
It was the happiest moment, I achieved what I wanted from a long time, I was much satisfied and proud too. After all, I did something, which seems quite dangerous or scary. But I was thinking, why it was just for few seconds! The moment, I wait for years just passed in few seconds but things are like that only.
Then, I took a steep walk till the Jumpin-height office, where a label and a certificate was waiting for me. And yes, there was a camera too on the jumping site to record all the motions and emotions.
Many of the person want to feel the thrill of bungee jumping, but there are always some queries that people look for, and same was for me, I too search lots of internet to clarify my doubts and query. So, here I try to answer some most probable questions.
Bungee Jumping cost in Rishikesh
The very next question must be about cost, here cost of Bungee Jumping in Rishikesh is INR 3500/- . You can book it directly through Jumpin Heights website or can directly buy your jump from Jumping Zone office.
But to avoid last minute rush, it is advisable to book your slot in advance. Sometime, due to higher number of participant it become difficult to secure your slot.
Note: Jumpin-Heights is the only company that provide Bungee Jumping in Rishikesh, Uttrakhand.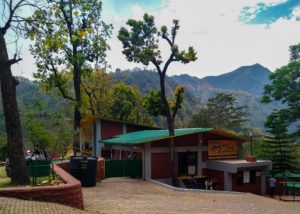 An army man set up a Jumping zone at Mohan Chatti, 25 km from Rishikesh city center. Here, it is a permanent structured platform at a height of 83 meter, amidst the natural beauty at the bank of river. So that, you can enjoy the natural beauty and free fall at the same time.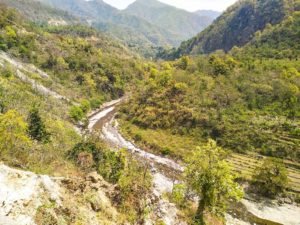 Age & weight limit for Bungee Jumping
Yes, because it is one of the most extreme adventure sport so there is a guide line regarding age and weight. Any person, age between 12 to 45 and weight between 40 kg -110 kg can try Bungee Jumping.
But, If you are facing any problem mentioned below, should not try this extreme sport.
Back or Neck injuries

Recent Fracture

Any Dislocation

High Blood Pressure

Neurological Disorders

Heart Problem

Pregnancy

Osteoporosis
Timing for Bungee Jumping
Usual time for Bungee Jumping is from 9:30 AM to 5:30 PM, and also subject to weather condition. During monsoons period, Jumpin-Heights suspend their adventure activity mainly from mid July to mid September.
How to reach Bungee Jumping site from Rishikesh
You can take your private vehicle car/bike to reach Bungee jumping site, usually called Jumping Zone. But no shared vehicle or Auto rickshaw go to jumping zone near Mohan Chatti.
You can avail the facility of Bungee Coach on chargeable basis that starts from the Jumpin-Heights office, situated at Tapovan (Rishikesh) on Badrinath highway.
Departure time: 09:00 am, 11:00 am & 01:00 pm from Jumpin Heights office at Tapovan.
Return Timings: 12:00 pm, 02:00 pm & 04:00 pm from Jumping Zone.
Charge of Bungee coach: It charges Rs. 400/- for both side, which include entry charge of Rs. 100/- to the Jumping Zone.
Booking of Bungee Coach for reaching Jumping Zone
No need to worry for the advance booking of Bungee Coach. Just reach at Jumpin-Heights office at Tapovan, 30 minute prior to departing time and get your ticket from their office.
Note: Camera or mobile are not permitted to the Jumping Zone. But, you don't have to worry for the pictures and video of your life time achievement. A CCTV camera installed at jumping site record all your activity and you can buy it from Jumpin-Heights office.
Cost for Bungee Jump video
Its hardly 1 minute video of your Bungee Jump that cost you Rs. 750/-.
Locker facility at Jumping site
Yes, there are separate lockers for each individuals. As you are not allow to carry camera, mobile or any thing in pocket so you can put all your accessories like; wrist watch, chain, specs etc. or luggage at these lockers.
Time required for Bungee Jumping in Rishikesh
Keep at least half day ( 5 hour) for Bungee Jumping from going Rishikesh to Jumping site and coming back to Rishikesh, so that you can comfortably plan your other activity.
It take approx 40 minute to reach Jumping Zone from Jumpin-Heights office in Tapovan, Rishikesh.

At jumping zone, you have to fill up form regarding some necessary information, then your weight to be measured and marked it on your hand.

You also get a brief introduction about the activity you are enrolled for. As

Jumpin-Heights also organize two other activities Flying Fox and Giant Swing.

You need to walk 400 meter from Jumping zone office to reach jumping platform. Bungee jump hardly take 5 minute from wrapping you in safety harness to lowering you down to river bed but because of high rush, you may have to wait even up to 1 hour.

You have to trek approx 500 meter for coming back to jumping zone office from river bed so it also take 15-20 minute.

There is a cafeteria too at Jumping zone office, where you can have light snacks while relaxing.

Getting back your accessories or luggage and purchasing your Bungee jump video (in a CD) may also take time.
Keeping all these activities in mind, you need at-least half day for Bungee Jumping in Rishikesh, so plan other activity accordingly.
Conclusion
It was a wonderful and lifetime experience and it was not that risky as it seems, because of many safety checks to insure a safe jump. One of my friend said "Overcome your fear now or regret forever".
You will be proud of your of your jump, that also motivate you further in your life to taking other risk to achieve your goal. Life is one but dreams are many…….so don't waste time and move ahead to live your dream.
Watch the complete video of my bungee jump at Rishikesh
Find more adventure trip on explore my ways
Do you find this post useful ? Please write your feedback in the comment box.