Ancient Nalanda University ( Mahavihara), which is now exist in its ruins state have seen the Golden Era of India. It was established during the Gupta period in 5th century and remains an important learning center up to 12th century. That time, it was a part of Magadha and now in Indian State of Bihar.
Ruins of Ancient Nalanda

University, Visitors guide
It was one of the three prime university of ancient India, other two were Vikramshila ( also in Bihar) and Taxila in Afghanistan. Now, the world know it as UNESCO World Heritage site because of its contribution in the ancient education.
It was one of the oldest boarding education institute in the ancient World, not even oldest but largest too. Many scholars from the world mainly from Tibet, China, Korea and Central Asia used to come Nalanda for higher education in their respective discipline. That time, Hundreds of courses were available here for thousands of students.
Till the 18th century, history of this Ancient Nalanda university was unknown to the world. It came to knowledge after researcher studied the work of Xuanzang ( Hieun Tsang).
Xuanzang was a Chinese pilgrim who have visited Nalanda in 7th century and spend two year here. He described this place in much details in his writing. There is a memorial of Hieun-Tsang close to the ruins.
Site is also related to Jain Thirthankara, Mahavira and Gautam Buddha. They had spent enough time in this region for mediation and spread of their teachings. Buddha's one of the main disciple Shariputra also born in this area.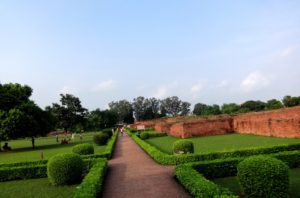 Archaeological Survey of India (ASI) maintain this important heritage site. People from across the world come here, it's nice place for history lovers. ASI still working on the site and till date excavation work of site is going on.
Ruins of Nalanda University
This ancient university almost cover an area of more than 30 acres. Archaeological Survey of India (ASI) had started excavation of the site in the beginning of 19th century.
Eleven monasteries along with six big temples of brick, found from this site. Many sculptures of Buddha and other Hindu Gods had been discovered from the site.
Several types of coins, seals and inscriptions belongs to different period also been recovered from this site. All of these things are kept in Nalanda Archaeological museum, situated on opposite of site.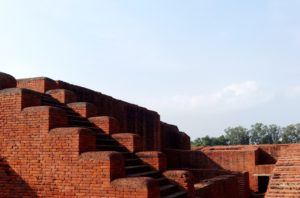 Main entrance of the University Complex is enough to amaze you because its wall have thickness of more than two meter. It seems like, they have planned it for many future centuries.
Next you will see a gallery that open in the main compound , from where you can actually see the largeness of this Maha-Vihara. You see big temples are facing you and all monasteries at your side are in a line and in very systematic way.
The layout plan of Nalanda University is quite competitive with modern planning technology. Even, these structure are superior in many way, still in good shape after fifteen century.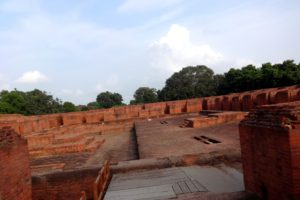 All Monasteries are rectangular in shape and having a big courtyard in the middle. It would have been used for the teaching or some other religious work. Outer layer of these monasteries have numerous cells which were the residence of students/ monks. There is a well too and their drainage system also worth to see. Really, these people were master in everything.
Temples inside the Nalanda complex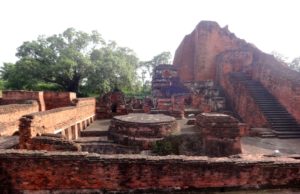 A total, six large temple have been found in the Nalanda university complex, most important one is in the left as you enter. Visitors are not allowed up to this temple for the safety of the monument. There is a big courtyard also, possibly it was for some function or religious gathering.
Temple no. 3 have multiple flights of stairs that lead to the top. According to researcher, it is a result of successive construction one over the other in course of time.
This temple have many sculptures of God Goddess like Shiva, Parvati and scene depicting Buddha's life. There are numerous little Stupas around these temples. Also read: Great Sanchi Stupa, A visitors guide
Entry fee at ruins of Nalanda
There is a little entry fee of Rs. 15/-for Indians and visitors from SARC counties, these monuments remains open from sunrise to sunset.
Nalanda archaeological museum which is in front of this university complex charge only Rs. 5/- for its visitors.
How to reach Nalanda University
Ancient university of Nalnada is about 95 kilometers from Patna capital city of Bihar. It is very close to Bihar Sharif town and around 80 km from Bodhgaya, another World heritage site of Bihar.
Air: Loknayak Jayaprakash airport situated at Patna is about 90 km from Nalanda. This airport have good connectivity to major Indian cities like Mumbai, New Delhi, Jaipur, Kolkata, Bengaluru, etc. From Patna you can hire direct taxi to Nalanda.
Rail: Rajgir railway station is the nearest one, located about 12 km from Nalanda. Few trains from Delhi, Patna, Gaya have stoppage here. From the station, one can hire a taxi or Auto for Nalanda.
Road: Road network is also good, it lies on the Bihar sharif -Rajgir-Gaya route. And there are regular state-run deluxe Buses from Patna, Bodh Gaya, Rajgir to Nalanda.
See more important heritage sites of India

If you find this post useful, please share and leave your valuable feedback in the comment box.
Subscribe for further travel update