From the ancient period, India has seen its power centre changing from Magadha to Delhi. City of Fatehpur Sikri have also been lucky to get such honour during Mughal period, but for a while. But in that short period, Akbar build several monuments and buildings. These historical monuments and the history of the region made Fatehpur Sikri a UNESCO heritage site. In this travel guide, I covered almost all the historical monuments you must visit during your visit of Fatehpur Sikri.
Historical monuments in Fatehpur Sikri
In spite of several historical monuments & buildings, Fatehpur Sikri is mainly known for Buland Darwaza. It is the highest gateway in the world and an iconic historical building of Fatehpur Sikri.
During my trip, I met a 12 year boy in guide avatar just below the steps of Buland Darwaza. So, out of curiosity I asked this boy for his company. The boy started telling me about this gateway..
Buland Darwaza, Fatehpur Sikri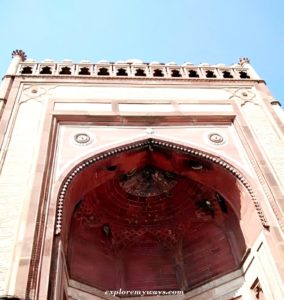 Size of Buland Darwaza: It is 44 meter high and 35 meter wide, the total height from the ground is 54 meter, 42 steps take you 10 meter high up to the foot of this massive gateway.
Meanwhile I was looking at the top of this gate, it is a combination of Islamic and Rajputana style of architecture. From the side, it look like a three storey structure of red sandstone with arch shape gateway.
On the top, it has 3 big and 13 smaller cenotaphs (Chhatri). And if you look towards ceiling, you see a false dome shape. On the main face of gateway, you can find several verses from the Quran, had been written in ornamental way.
The boy told me that this gateway is entrance to Zama Maszid, so I have to get off my shoes. This gateway was not the original entrance of the Mosque. Mosque of Fatehpur Sikri was built in 1569 while the gate came into existence in 1601.
Akbar constructed Buland Darwaza as a symbol of victory over Gujarat. Initially, the city's name was Sikri, but later it changed to Fatehpur Sikri after the victory (Fateh) over Gujarat.
Tomb of Salim Chishti
As we cross the gateway, we were in a big square courtyard having sides of more than 120 meter. Mosque was in my left, and a white marble structure in front. The boy told me that it is the Tomb of great Sufi saint 'Sheikh Salim Chishti'.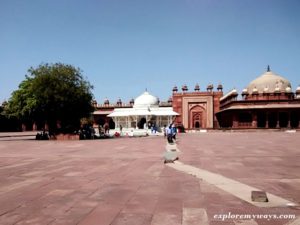 It is believed that Emperor Akbar did not have any children till the age of 27, he visited lots of religious place in search of blessing. When he was at Azmer Sarif, some one told him about Sheikh Salim Chishti. Then Akbar came to present Sikri from Azmer by walking only.
He prayed to Sheikh Salim Chishti but the saint said.. there is no heir in your fate. After seeing Akbar in much disappointment, the saint tell him that sacrificing life may work.
It is also said that Saikh had an infant who was also listening their conversation. Then the little infant pray for him and offered his own life, so that Emperor could have a son.
In the 1569 AD, Emperor Akbar got blessed with a son, so as a mark of respect he decided to construct a mosque here. And in later year, he established this city as his capital to live closer to the Sufi Saint.
Probably you know that Akbar's son Jahangir was also known as Salim, that is because of this Sufi saint Salim Chishti.
It's true that Akbar establish this city as his capital, but it was also a favourite spot of Babur and Humayun. Babur also developed a garden here after defeating Rana Sangha in battle of Khanwa as "Garden of Victory".
Graves in Fatehpur Sikri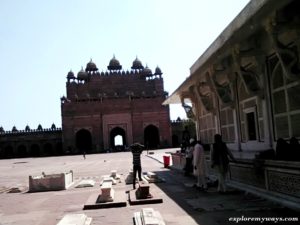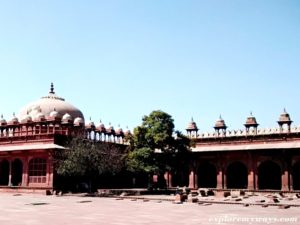 The boy take me straight to Zanana Rauza, exactly opposite to the Buland Darwaza. It was closed chamber containing graves of women belonging to Saikh Salim's family.
There is another Tomb of Islam Khan parallel to the Tomb of Saikh Salim. Space between these tomb called Yaran Chatbutra, it has several other graves of disciples of Sheik Salim Chisthi. It was a little awkward for me because this was the first time I saw so many graves around me and people were walking through freely.
The boy also show me a down-going stair in that area, which has a closed gate at the end. According to him it was the escape way of Anarkali , she was known for the love affair with Prince Salim (Jahangir).
A famous Bollywood movie Mughal-e-Azam also featured their love story. Akbar was not happy with their relationship, so Akbar ordered to bury her alive, in a wall. But according to the boy he actually released her and made her escape from this door.
Zama Maszid of Fatehpur Sikri
It is also one of the largest mosque of India. Akbar personally guided for the design and construction of the mosque because its idea born when Akbar got his wish fulfilled.
The mosque is having three halls on either side those are separated by arch shape column. The mosque's decoration with detailed intricacy make it one of the significant example of Mughal architecture.
The mosque lie at western edge of big courtyard, while there is series of 84 rooms on other three sides. These rooms are still in use for teaching (Zamat ) on every Sunday. The boy told he himself study here.
There I met with other kids selling picture-booklet of Fatehpur Sikri. Meanwhile I clicked a picture of mosque with the little boy but the boy insisted me to delete that one.
He said that the Maulavi who teach them, will get to know about it, and he will beat him for sure. So, I deleted that to made him relax. At last he goodbye me, while showing me King's gate on the eastern face of courtyard, the way to the Akbar forts.
Fatehpur Sikri Fort
Maximum part of today's Fatehpur Sikri town still lie within the old wall city, built during Akbar regime. And you can see the fort of Akbar, 200 meter east of Zama Masjid.
Entry Fee: Visiting of Buland Darwaza and the mosque was at no cost, but for exploring fort of Fatehpur Sikri you have to pay INR. 50/-. Jodha Bai's palace is the major attraction of this fort.
She was wife of Emperor Akbar belonging to Rajput family of Amer (Jaipur). Akbar was a religiously liberal person, so he never forced her to convert but honoured her with a Persian title of 'Mariam-uz-Zamani'.
Jodha Bai's palace: is square in shape with a big courtyard in between. Entrance is two-floor structure while rest part is single storey, a total 12 big room it has.
Main attraction of the palace are wall shelves in each room, these were used for placing statue of different Hindu God-Goddess.
Other historical monuments inside Fort of Fatehpur Sikri
Birbal palace: It is a small red sand stone structure with elegant design in North-western side of Jodha Bai's palace

House of Birbal; who was the important adviser of Akbar

Akbars Pferdestall or stable; This place was used for keeping horses and elephants
Panch Mahal: It is a five storey structure of column and floor only. It has hundreds of small pillars at the lowest level and the number of pillar decrease with the rise of floor. There is a seat at the top, where Akbar used to sit during any celebration.

Panch Mahal in Fatehpur sikri fort; This place was in use for the celebration of any grand occasion
Diwan-e-Khas: A meeting room, where Akbar meet with important officials. The design of this building is quite unique. It has entry with 2 gate, its central pillar have a details carvings.

Diwan-e-Khas in Fatehpur Sikri fort

Beautifully designed pillar and beams inside Diwan-e-Khas of Fatehpur Sikri fort
Diwan-e-Aam: A meeting place with the public, it is an open ground( now developed as a park) in the middle there was a place for Akbar to sit.
Tansen Chabutara: A small raised floor over a pool, the great musician Tansen used to play music at this place.
Naubat Khana: located on the way to fort, can say the first entrance to the main fort area. it is a two storey arch shape gateway with three entrance. Near it, you can see the ruin of numerous chambers, that look like a market area of that time.

How to reach Fatehpur Sikri
Usually visitors combine Fatehfur Sikri trip with the trip of Great Taj Mahal. So, you can come to Agra first and then you can take a taxi or a govt Bus from Eidgah bus stand up to Fatehpur Sikri. It is just an hour ride (50 Km) with any transport means.
Flight: Kheria Airport now (Pandit Deen Dayal Upadhyay Airport, Agra) is the nearest airport to Fatehpur Sikri.
Rail: Agra Cant railway station is the main rail head of Agra, Various train from Delhi to Bhopal-Mumbai route and train connecting eastern India to Western India pass through here.
Road: road connectivity is also good, so you can travel to Agra via Bus from Delhi , Jaipur or other major nearby cities.
Visitor can also club their Fatehpur Sikri trip with Bharatpur (Rajasthan). It is only 24 Km from Bharatpur, and in Bharatpur you can also visit Keoladeo National Park.
If you find this post useful, Explore more Historical & Heritage sites of India, on Explore my Ways
& share your valuable feedback in the comment box.